Beavers #RefuseToLose Against Louisville At CWS
Written by Shawn Schoeffler
Monday, 17 June 2013 16:18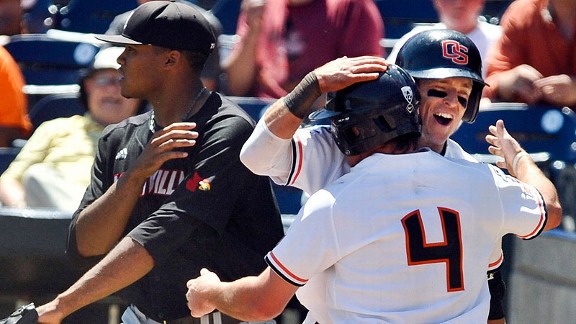 OMAHA, Neb. – Oregon State improved to 3-0 this postseason, and 15-5 all-time under Pat Casey, in elimination games in an 11-4 College World Series win over Louisville Monday afternoon at TD Ameritrade Park, giving the Beavers a school-record 51st win of the season.
Oregon State players started the hashtag #RefuseToLose during regional competition, and they used that mantra in back-to-back wins over Kansas State to advance to Omaha and again on Monday against the Cardinals to remain alive at the College World Series.
The Beavers will play the loser of Mississippi State-Indiana at 7 p.m. CT (5 p.m. PT) on Wednesday in another elimination game that will be televised on ESPN2.
Lefty Ben Wetzler allowed three runs over 6 1/3 innings and moved to 10-1 to join Andrew Moore (14-1) and Matt Boyd (10-4) with double-digits victories, the first time Oregon State has had three 10-game winners in a season since 2007.
Scott Schultz pitched the final 2 2/3 innings, giving up four hits and a run, to close out the game.
Michael Conforto continued his torrid pace at the plate in Omaha by going 2-for-4 with an RBI double in the seventh inning and has now reached base in eight of his 10 plate appearances at the College World Series.
Andy Peterson went 3-for-4 with three runs scored, and Tyler Smith and Max Gordon each collected two hits with Gordon contributing two RBIs and two runs.
Gordon was hit by a pitch to open the third inning and scored from first when Smith doubled down the left field line. Peterson reached on a bunt single and Conforto drew a walk to load the bases before Louisville second baseman Zach Lucas threw the ball away trying to start a double play, which allowed two runs to score and give the Beavers a 3-0 lead.
Oregon State (51-12) loaded the bases again in the fourth inning and scored two runs when Dylan Davis beat out a squibber down the third base line that plated Gordon and Peterson. After Danny Hayes walked, the Beavers added two runs when shortstop Sutton Whiting threw the ball over first baseman Zak Wasserman's head.
Ryan Barnes was hit by a pitch, Jake Rodriguez walked to score a run and Gordon knocked in a pair with a single through the left side that gave Oregon State a comfortable 10-0 lead. It was the 18th time the Beavers have batted around in an inning this season.
The seven runs in the inning are the most by a team since the College World Series moved to TD Ameritrade Park from Rosenblatt Stadium in 2011.
Louisville (51-14) got on the board in the fifth inning on an RBI single by Lucas, but Wetzler induced a double play to end the rally. He gave up three singles in the sixth but got out of the inning without a run being scored with by the help of a double play and flyout.
The Cardinals added three runs in the seventh inning on a hit by pitch and walk that chased Wetzler before Scott Schultz allowed a two-run double to Adam Engel and an RBI single by Ty Young.