Race For No.2 Provides Drama in BCS
Written by ESPN.com
Sunday, 27 October 2013 19:59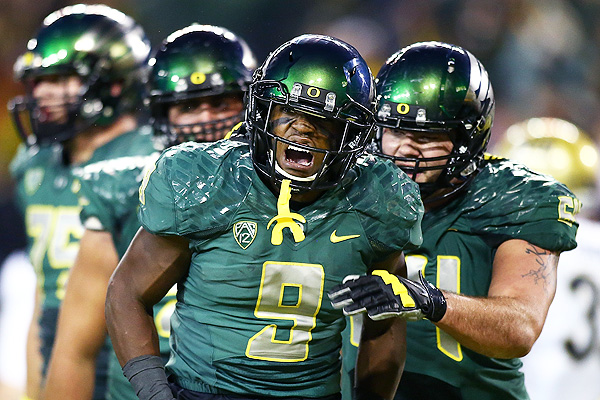 Oregon has passed Florida State for the No. 2 spot in the second edition of this season's BCS standings.
Florida State was No. 2 last week and won comfortably on Saturday, but the Seminoles found themselves chasing the Ducks in this week's standings, released Sunday night.
No. 1 Alabama slightly increased its stranglehold on the top spot, while Florida State dropped to No. 3 despite beating NC State 49-17 on Saturday.
The Crimson Tide, ranked first by both polls used in the BCS calculations, are also listed first by four of the six computers. The Ducks and Seminoles each lead one computer.
Ohio State remained No. 4, while Stanford moved up one spot to enter the top 5.
Oregon, which beat UCLA 42-14, has a much wider lead on the third spot than Florida State had last week. The Seminoles led by a minuscule .0028 in the BCS average last week, while Oregon now enjoys a .0306 advantage.UCLA fell from No. 12 to No. 20 after the loss to Oregon.
Also dropping in this week's standings were two teams that suffered their first losses of the season Saturday. No. 9 Missouri dropped four spots after losing in two overtimes to South Carolina, and No. 15 Texas Tech fell five spots after losing to Oklahoma.
The Sooners replaced Texas Tech at No. 10 with the win, while the Gamecocks shot up seven spots to No. 14.
No. 6 Baylor passed Missouri and fellow unbeaten Miami, which remained No. 7 after needing a late comeback to beat Wake Forest on Saturday. No. 8 Clemson moved up one spot in the standings.
Four SEC teams are just outside the top 10: No. 11 Auburn, No. 12 Texas A&M, No. 13 LSUand No. 14 South Carolina.
Two new Big Ten teams entered the standings this week -- No. 22 Michigan State and No. 24 Wisconsin -- as did Notre Dame at No. 25.
Virginia Tech, which had been No. 14 and a favorite of the computers last week, tumbled out of the top 25 after a loss to Duke. Nebraska and Oregon State also fell out of the standings after losses on Saturday.
No. 16 Fresno State and No. 17 Northern Illinois, the nation's top two teams from outside the automatic qualifying conferences, both moved up one spot from last week. Northern Illinois closed last week's gap on the Bulldogs by about a third.
One of those schools will earn a BCS bid if it finishes in the top 12, or if it finishes in the top 16 and ahead of an AQ conference champion. That appears to be a strong possibility this season because Fresno State and Northern Illinois are both ahead of the top teams from the American Athletic Conference: No. 19Louisville and No. 23 UCF.
The schools from the AAC, formerly the Big East, are nearly invisible to the computers. Louisville is unranked by five of the six computers, while UCF is unranked by two. Meanwhile, Northern Illinois is ranked No. 3 by the Sagarin computer, although the highest and lowest computer rankings are thrown out of the calculations.
No. 18 Oklahoma State and Wisconsin are only in the standings because of their poll rankings. Both teams are unranked by all six computers.